!SLIDE center full-page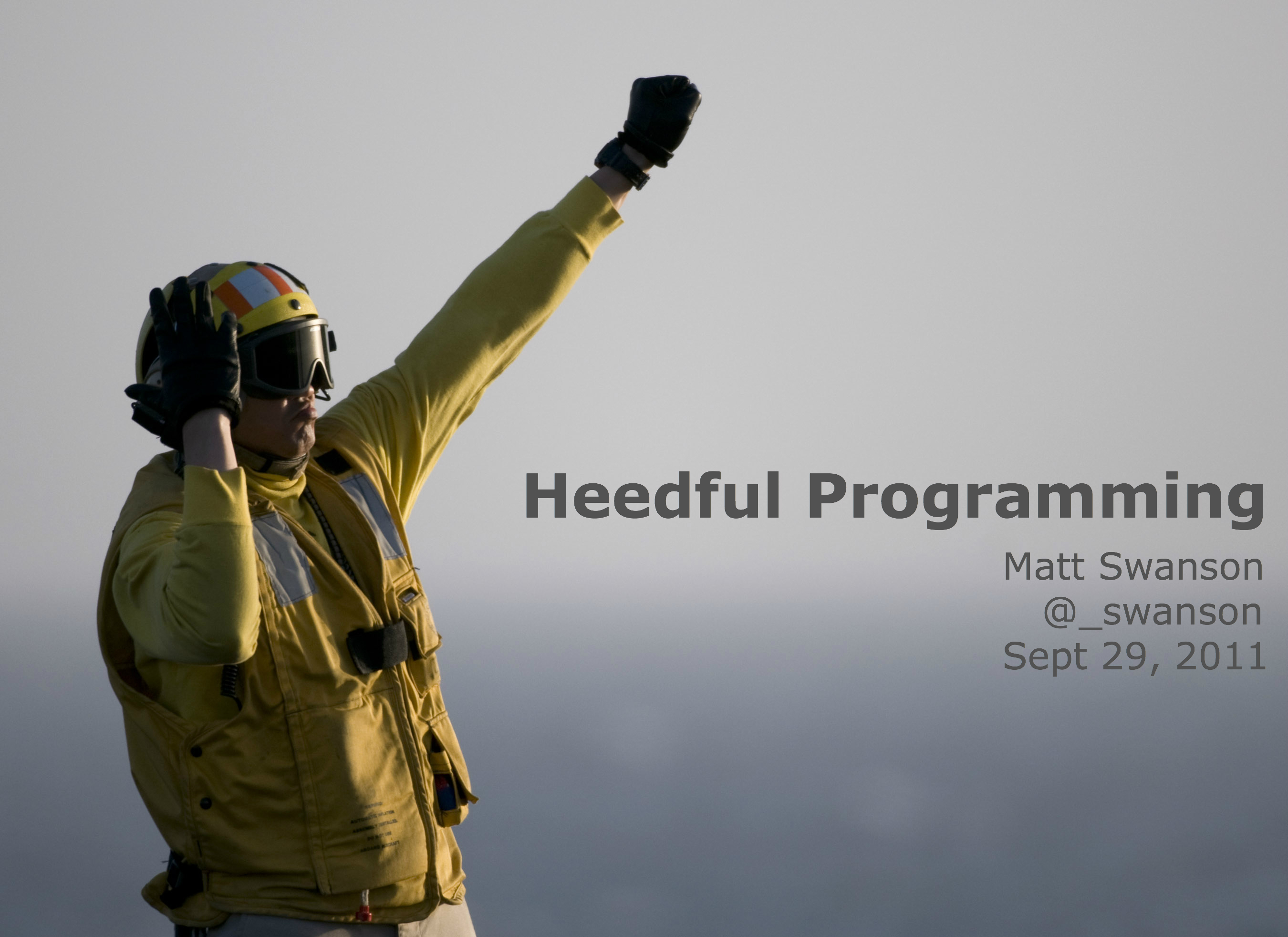 !SLIDE bullets #Fork of Dave Hoover's talk from SDC Chi 2011
!SLIDE bullets
Struggle for discipline
Least resistance => fragile code
Positive peer pressure
!SLIDE #A Heedful Programmer…
Sees actions from team's POV
Communicates openly, deliberately
Constantly refines actions based on feedback
!SLIDE #Background
Karl Weick
Aircraft carriers
High complexity, high reliability
!SLIDE #Heedful Interrelating
Collective mind
Connections between your team
Handle unexpected problems
!SLIDE #How do we become more heedful?
!SLIDE #Share knowledge
Don't silo
Some problems need MULTIPLE experts
Pair frequently, collaborative code ownership
Shared responsibility for being aware
!SLIDE #Heads up, Blinders off
Bring in newcomers that will question process
Welcome new ideas, don't dismiss as "that's the way we've always done it"
Be mindful about what you are doing
Hold retrospective and take action
!SLIDE #Pain Driven Development
If it hurts, do it more
Force yourself to get better
Or at least make it obvious that the process is out of whack
!SLIDE #Have a pow-wow
Shift from documentation to stories
Talk about a feature as a group
Bust out the white board
Rely on each other to fill in details that cue retrieval
!SLIDE #Warm Fuzzies
Safe environment for questions/presenting
Accepting of ideas from everyone
Encourage community involvement
People aren't resources
Removing people from social interaction removes them from collective mind
!SLIDE #Use process to build trust
Use trust to remove processes that suck
Independence => Expertise => Independence
Constantly refining and retrospecting to find emerging patterns
!SLIDE #Are you habitual or heedful?
next_week = clone(this_week)
next_week = retrospective(this_week)
!SLIDE smaller #Thought Questions
Adaption: is your process changing? stagnant?
Noobs: how do we onboard and socialize with newcomers?
Narratives: what are your team rituals, why?
Cooperation: do we have shared knowledge? bus number?
Trust: once we have it, what can we stop doing?